Do you own a car wash or convenience store that could benefit from the addition of a self-serve pet wash business?
Our Manual Tubs are unique from our standard APWs in that there is no cabinet attached. Soaps are stored in the bin attached to the end of the unit and feed directly into the control box. Lacking an equipment cabinet, these units will always be a free amenity option, much like our Option C units. These units are significantly smaller than our standard units measuring about 54 inches long and about 5 feet tall so they are able to squeeze into smaller spaces. Unlike most of our units, the Manual Tubs use a rotating dial instead of push buttons. Simply rotate the first dial to the desired function then rotate the second dial to the soap you'd like to use.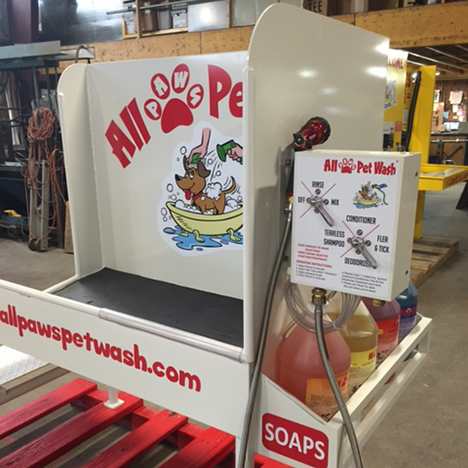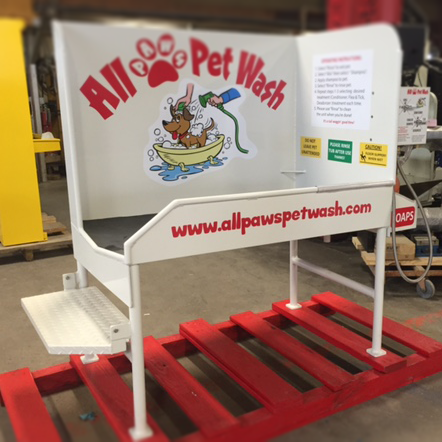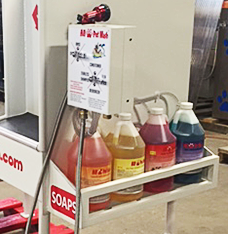 Rotating Dial Controls
Our Manual Tub models feature a unique spray control that utilizes a handle that rotates to the desired action. This simply control mechanism lowers the cost of the unit while still providing the user an easy way to control the unit.
Soap Shelf
Because our Manual Tub doesn't feature a cabinet, each tub has a shelf attached to holster your soaps. The shelf is wide enough to hold 4 one gallon Ready to Use soaps. These soaps include Tearless Shampoo, Conditioner, Flea and Tick and Deodorizer. Purchase refills at our sister site: PetWashSupplies.com

Full List of Features
• Mid-size Pet Tub
• Rotating Dial Controls
• Soap Shelf
• Informational Signage
• 4 Soap Start Up Kit – 1 gallon of each soap
• Treats – 1 box of 100 treats
Where would I install one of these?
• Car Wash
• Campground/RV park
• Convenient store/gas station
• Pet Store
• Dog Park
• Kennel
• Pet-Friendly Hotel
• Apartment Building
• Veterinarian Office or Hospital
• Beach
Tradeshow specials including discounted units, discounted freight, free soaps and marketing materials available.
Call us or click here for upcoming show dates!