If you already own a business and are looking for ways to increase revenue, consider adding a self-serve dog washing station to your existing business. Many of your customers are likely pet owners and lovers. Over 40 million households in the U.S. own at least one dog, and over 30 million own at least one cat, according to the American Veterinary Medical Foundation (AVMA).
However, money is only one of the benefits of adding a self-serve pet wash station to your existing business. There are others, like attracting new and repeat customers. Let's take a closer look at what a self-service pet wash is, and how adding this service to your business is good for you — and your customers.
What Is a Self-Service Pet Wash?
All Paws Pet Wash stations are fully-functional, self-contained buildings. Our units offer customers self-serve grooming and pet-washing services. We even have a flip-tub option that is used for businesses with limited space. There are also indoor options such as APW, Flip Tub and Cabinet and Tub models.
These pet wash stations allow pet owners to wash their dogs whenever they want and allow you to make money 24/7. These pet washes come in both aluminum and stainless steel models. We can also custom paint the aluminum framed models. Any unit a customer purchases can be designed for their specific location.
These pet wash stations are simple and easy to use, so customers can operate the units from start to finish without assistance. Other benefits include:
Pet owners do not have to make appointments.
They do not have to spend money buying shampoos and treatments for the home.
There is no mess for pet owners to clean up – we like to say your mess is our success!
The units are safe and have a restraining leash to keep the dog in the tub, so your pet doesn't jump out and injure themselves.
They have blow driers that blow out room temperature air to keep dogs' skin from drying out.
It takes only minutes for pet owners to get their dogs clean, dry and ready to go home. A typical wash will be $10.00 for 12 minutes.
Questions? Contact Us Call Now: 877-880-6056 Request a Quote Today!
Benefits for Customers
Imagine your customers having a convenient place to go and wash their dog without trying to wrestle them into the bathtub, or chasing a dripping wet dog around the house after they escapes. These coin-operated pet wash stations are a safe, comfortable place for pet lovers to wash and groom their dogs without hassle.
The pet wash station is the best way to get pets clean, and the vacuum sucks the excess water from the dog's hair to make drying much faster than towel-drying at home.
Benefits of Adding a Pet Wash to Your Business
Convenience and cost-efficiency for your customers are fantastic, but what do you have to gain from adding a pet wash? As a business, self-serve pet washes provide a lot of benefits, including:
Steady income: Pet services are a never-ending market. People will always need to wash their pets, so you can count on a continuous income for your station.
Year-round use: Since your self-service pet wash will be indoors and temperature-controlled, you can keep it open all year long.
Flexibility: With your own pet wash, the world of grooming is your oyster. Place your station wherever you like, adjust the price to suit your needs and adjust the settings to suit your market.
Included equipment: Unlike starting a pet wash from scratch, investing in a self-service station will provide you with all the materials you need to operate in one place.
To learn more about the benefits of adding a self-serve dog wash to your business, you need to know more about the pet industry.
The Pet Industry Market
The pet industry market is huge. It is reported that over $60 billion dollars was spent in the pet industry in 2015, and $96 billion dollars was spent in 2019. Talk about growth! To pet owners, their dogs and cats are not just pets — they are part of the family. This means pet owners are willing to spend money to keep their pets healthy and happy.
All Paws Pet Wash can help you tap into this lucrative industry. When you add a coin-op dog wash to your existing business that also accepts bills and credit cards, you provide customers with a convenient way to groom their pets. Then, they don't have to take their pets to a groomer, which can be more costly. You also offer customers a way to reduce the mess created at home when they have to wrestle with a dripping wet dog.
How Much Can You Make?
The amount of revenue you can generate from a pet-washing station can vary depending on your location, the cost you charge to use your station, the weather and how often it is open.
The average monthly revenue can range from $800 dollars during a slow month and up to $3000 dollars during a busy month, according to the president of All Paws Pet Wash, Keith Caldwell.
You can adjust the price so it fits into any market. For example, you may attract more customers if you charge $5 dollars for six minutes of use, instead of $1 dollar per minute. A typical operator will set their units for $10 for 12 minutes.
Your revenue also depends on getting the word out to customers that you offer a self-serve pet wash station. You can advertise inexpensively by handing out flyers to your regular customers and putting up signs to alert potential customers to your new service.
Browse this selection of banners and marketing materials to assist you in advertising or marketing your location. In addition, all of our customers are promoted through our pet wash locating website that attracts local and traveling customers.
You can also offer discounts to existing customers and discounts for those who use more than one of your services. For example if you own a car wash, too, you can offer discounts on car and pet washes when customers choose to use both.
Some of our pet wash owners partner up with their local animal shelters to host an adoption day where they offer free washes. This raises awareness for both your business and your local animal shelter and brings in new customers. Also, you can get free advertisement in local papers for community outreach reason!
First time customers are so amazed about how easy is it to wash and groom their dog and quickly become regular customers. According to AVMA, many households own more than one dog. Check out our gallery of successful pet washes from many of our satisfied customers and read their testimonials.
What Else Should You Consider?
The outlook for pet-related businesses looks good, but how can you decide if it's right for your business venture? Here are some things to consider:
Are you looking for something different to offer customers? You can really attract new customers if there aren't a lot of pet wash facilities in your town. This means new customers for the pet wash and your other business as well. Businesses that would benefit include car washes, convenience stores, veterinarians, campgrounds, dog parks, shopping malls, grooming salons, pet supply stores and more.
Do you have space for a pet wash station? The All Paws Pet Wash vending units can be installed indoors or outdoors. There are different models with varying dimensions that may match up well to the space you have available for a pet wash station. The Single ADA813 model is 8ft X 13ft with 4 different door configurations depending on how it is situated on your property. The Double ADA821 model is 8 ft X 21 ft with 2 different door configurations depending on how it is situated on your property. The APW Models measure 95 inches wide, 70 inches tall and 29 inches deep.
Do you have someone to assist customers? While it's not necessary to have someone run it full-time, it is a good idea to have a person nearby to assist customers if needed and to keep the pet wash unit clean. Typical operators visit their locations at least twice a day.
How much are startup costs? Start up costs can vary widely with self-service pet wash systems, but with All Paws Pet Wash units, you have very little start up and risk. It's estimated that you can make enough revenue to pay back your investment in as little as two years. We have pet washes ranging from 9k to 70k depending on your options, needs and budget. We work with each customer to find the model that will work best for their situation.
What should you charge? The average price for self-service dog wash units are $10 for 12 minutes, but you can set the price depending on your preferences. However, when figuring the return on investment, this is the price used.
Do you need insurance? General liability insurance is a good idea. While pet owners are responsible for their dogs or cats, you are responsible for making sure the system is set up correctly and is safe for use.
Do you like pets? The operators that are most successful have a passion for pets and can relate to this lifelong issue of bathing their own pets. If you have the space for business, you can start encouraging customers to clean their pets with a self-service pet wash station added to your business, or even starting up a pet wash station alone.
What Type of Businesses Can Benefit?
While car wash businesses are ideal places to add a self serve pet wash station into an existing wash bay, other businesses can benefit from a coin-operated pet wash station. Here are some examples:
Convenient store/gas station
Pet store
Car/Tire repair shop
Senior living communities
Dog parks
Campgrounds
RV parks
Laundromats
Kennels
Pet-friendly hotels
Veterinarian office or hospital
At the beach
Dog pool facilities
Pet-friendly apartment complexes or condos
Full-service groomers
Even dog pounds and humane societies can benefit from having a pet wash unit set up in their space. This is a low-risk way to raise money for animal care in these facilities.
Questions? Contact Us Call Now: 877-880-6056 Request a Quote Today!
The businesses that can expect the most success from adding coin-operated dog wash stations are those located in highly-populated residential areas and those that offer pet washing services 24 hours a day, 7 days a week. This gives people the freedom to wash their dog in the early morning or at midnight if they want, instead of having to wash their dog within business hours. This freedom increases the likelihood that more people will use your pet wash system, especially on the weekends.
All Paws Pet Wash offers different pet wash stations. To decide which one is right to add to your business, we have outlined the available options.
Single ADA813 and Double ADA821 Petwash Units
Our flagship product that has been a staple with us since 2009. The Single ADA813 self serve pet wash accepts bills and coins, and includes a large pet tub. The Double ADA821 includes a larger tub and is ideal for high volume locations.
APW Option A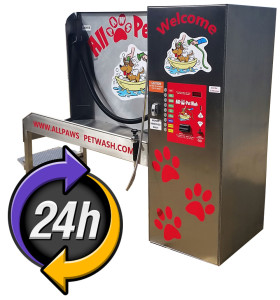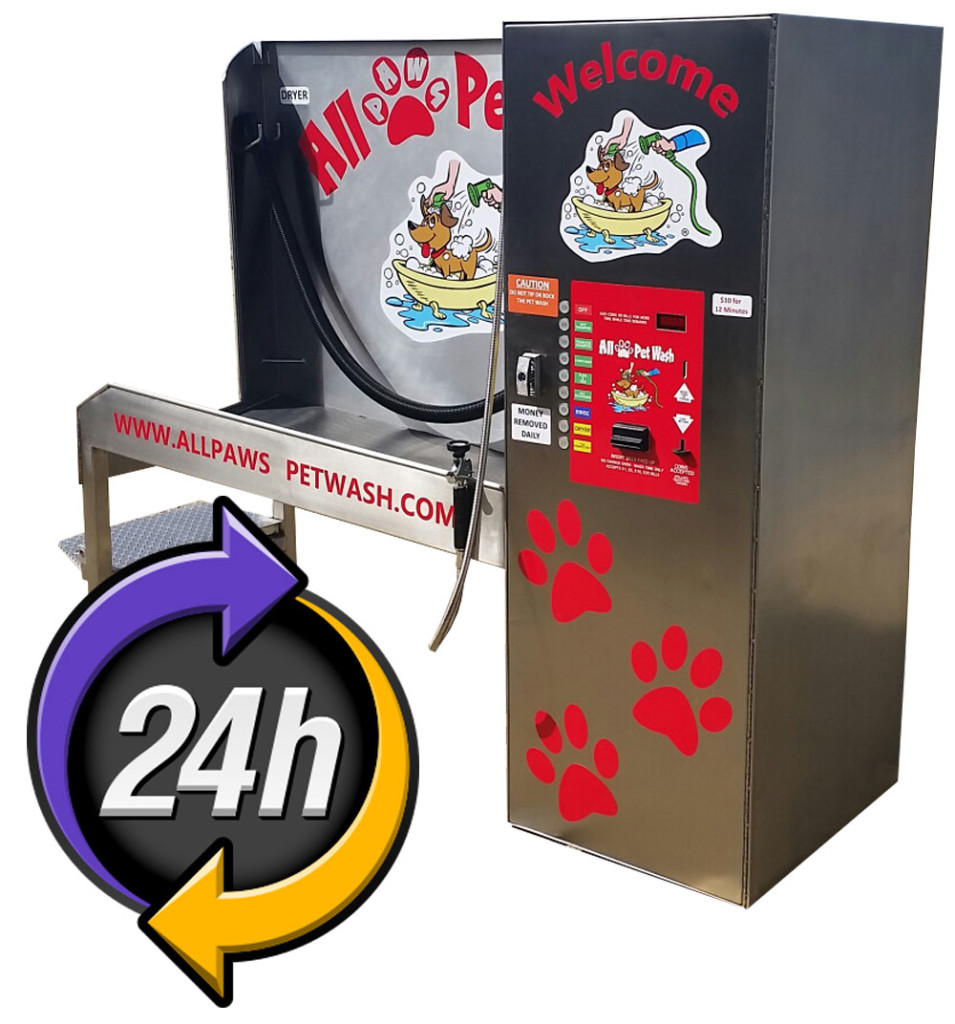 The APW Option A is a good option if you own a car wash or convenience store and want to make some extra revenue with a self-serve pet wash station. This unit comes with a built-in coin and bill receptor, so customers can use it 24/7, and you can make extra income around the clock.
Here's what you get with APW Option A:
Bill/Coin Acceptor
Timer
Spray Nozzle for Dispensing Soaps
Large pet tub
Easy push-button system
Hair dryer for wash tub
Hair straining system
Soap starter kit
A box of 100 dog treats
GFI Electrical outlets
*All APW options are 95 inches long 29 inches deep and 70 inches tall.
APW Flip-Tub
We specifically designed this easy-to-install unit to maximize usable area in small spaces. The APW Flip Tub is ideal for self-serve car wash bays. Customers can still wash their cars comfortably when the tub is flipped up. When the customer is ready to wash their pet, they simply flip down the tub and it is ready to be used!
This unit also comes with a built-in coin and bill receptor, making it convenient for your customers to use 24/7 and allowing you to make extra income.
APW Option C
This is a good option for apartment communities, RV parks, campgrounds and private communities that want to offer the pet wash system as an amenity. You, the business owner, decides when and who can use the pet wash station. You make it available to only those who have an allowance to use it.
The APW Option C includes:
An easy 3-button system—on/off, rinse and dry
Large tub
Hair dryer for wash tub
Maintenance cabinet
Hair straining system
A box of 100 treats
Every All Paws Pet Wash unit is an ideal way to earn some extra income without investing a great deal of time and money. Because our customer base already exists in great numbers, proving this service is in demand, you can feel confident about your pet wash generating customers and extra income as soon as it's open.
Pros and Cons of a Self-Service Pet Wash: Features and Benefits for Customers
Still wondering why you should add a self-service pet wash to your business? The answer is simple — because there are no cons! When you offer a self-service pet wash, your customers will enjoy:
Saving money: Self-service pet washes are much more affordable than professional groomers. Your customers will love how affordable your wash station is — and they'll keep coming back.
Saving time: Instead of making appointments and traveling to pet groomers, dog owners can simply come to your self-service station on their own time. Your pet wash will be simpler, quicker and more convenient.
Keeping their homes clean: When their pups get muddy playing or need a quick rinse-off after a walk, your customers can come to your pet wash instead of having dirty pawprints or experiencing wet splatters in their homes.
Keeping their pets happy: Dogs will have fun with your pet wash's vending machine, relax with the warm water and dryers and feel more comfortable with their owners grooming them.
Another benefit of adding a pet wash is that they come fully-equipped — so everything you need is right at your and your customers' fingertips. Features of a pet wash like our All Paws Pet Wash self-serve stations include:
Temperature controls: With one of our self-serve pet grooming stations, customers and their pets can enjoy comfort and convenience at all times. The pet washing tub uses heated water to soothe animals, and the temperature-controlled unit interior keeps customers comfortable in warm and cold weather alike.
Shampoo varieties: When you choose a self-serve wash from All Paws Pet Wash, we provide you with five shampoo varieties for various pet needs. Plus, we include a disinfectant to keep your tub clean.
Vacuum and dryer: Your clients will love how easy and enjoyable it is to dry and fluff their dogs' fur before finishing up at your pet wash.
Vending machine: When dogs need a little incentive to be good while their owners wash them, our station provides a vending machine with motivating pet treats.
Over-sized basin: With a sloped tub space large enough for big dogs or more than one pet, our wash basin provides accommodation and easy drainage.
How Can All Paws Pet Wash Help Your Business?
How can All Paws Pet Wash helps you tap into this booming industry? Let's take a look. When you set up one of these pet-washing stations, you'll have:
A business that operates 24 hours a day, 7 days a week and 365 days a year
A coin-operated business that requires little maintenance
A quality product with low startup cost
A variety of package options for an array of industries
Pet treat vending machines inside for customers to use before and after the wash
A vacuum and dryer to dry the pets after the wash
Heated water in the winter and cool water in the summer
Different types of shampoos and treatments for your customers' pets
A disinfectant spray to use to clean out the pet wash before and after the wash
The pet wash comes fully assembled. All you have to do is hook up the utilities, and you hardly need any equipment to do so. Here's what the systems provides for your customer:
Six wash cycles that include Oatmeal, Flea and Tick Shampoo, Tearless, Pet Deodorizer, Conditioner, and Tub Disinfectant
A high-volume rinse
Non-slip mats in the tub
Push button controls with easy-to-read instructions
Groomer-grade blow dryer
You'll generate more traffic for your existing business while making extra income with a self-service pet wash. A typical location draws between 100-200 customers a month – just thi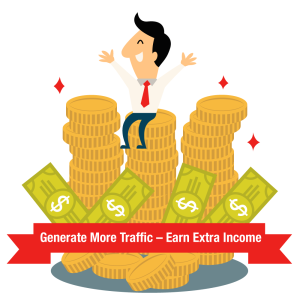 nk what another 100-200 customers a month using your other services would do to your bottom line!
Whether you're an entrepreneur looking for an opportunity or you already own a business and would like to add the benefits of a coin-operated pet wash, All Paws Pet Wash has a variety of unit options and pet supplies.
With All Paws Pet Wash manufactured by CCSI International, Inc, you have the opportunity to add to your existing business with practically no overhead and no risk to you. Why not contact All Paws Pet Wash and ask how you can set up a system, make extra profit and offer your customers the convenience of a self-serve dog wash. It's a Tail Waggin' Good Time!