Self Serve Dog Wash Systems
Find a Pet Wash Call Now: 877-880-6056 Request a Quote Today!
Table of Contents:

Pets are an invaluable part of many of our lives — especially our canine companions. Six out of 10 Americans own a pet, and of those pet owners, 79% own dogs. And many of us dog owners play on the floor with our dogs, snuggle our dogs, even sleep with our dogs — so when our best friend gets into the trash, swims in a stinky river or otherwise starts to smell a little strong, we notice right away. The ASPCA recommends bathing your dog at three-month intervals, at least, but more baths may be necessary if your dog spends a lot of time running and rolling outside.
For many of us, a trip to a costly dog groomer is simply not an option, leaving us to resort to the only other choice we have — the bathtub — armed with a bottle of dog shampoo and a forced smile. While hardly anyone would consider washing and grooming a dog a luxurious activity, it is for your pet.
Luckily, even on a tight budget, you can treat your favorite pooch to the luxurious treatment offered by self-serve dog grooming and DIY dog-washing tubs. With a wide variety of scented shampoos, snacks and even hair dryers, a self-service dog wash will make your dog think he's at a spa retreat — and all at a price you can afford.
If you're like most pet owners, you like to keep your dog or cat looking pristine and smelling good. And while there are groomers on just about every street corner providing bathing and drying services, they can cost a small fortune. What does a concerned pet owner do? Visit a coin-operated dog wash, of course!
Unfortunately, unless your dog weighs 1 pound soaking wet, attempting to bathe him in the family tub starts out with good intentions, but ends up more like an underwater adventure. The fact is, pet owners need more convenient, economical solutions for keeping their dogs clean, smelling good and happy.
What Is a Self-Serve Dog Wash?
Visiting a self-serve dog wash is an opportunity for your dog to relax and enjoy getting pampered. Many locations have double basins, ensuring that if you have more than one pet, each can stay safe and protected while you tend to the other. Dog wash systems have vending machines that offer all kinds of tasty treats for the well-behaved pooch, as well as affordable vending. Additionally, many pet wash stations are found at car wash businesses, letting you clean your pooch while your car gets scrubbed.

Cold outside? Not a problem, because self-serve dog bath stations have heated water, making even a winter bath warm and comfortable. Plus, before you step out into the cold, you have the option of using one of the high-powered hair dryers at the commercial dog-washing station to add the finishing touches to your pet.
Find a Self-Serve Dog Washing Station Near You
With 24-hour, seven-day-a-week availability, any time is the right time to pamper your pet with All Paws Pet Wash dog bath equipment. And with locations close to home, there's no planning needed. That's convenience you can depend on, whether you're coming back from a trip to the beach, returning from a hike in the woods or simply in need of a bath. What are you waiting for? Hop in the car and treat your dog to the pampering he deserves — and at a price you're happy to pay!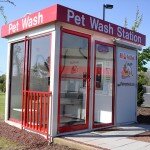 Use our handy tool to find a pet wash near you online. You can find our dog-washing stations at many locations, from car washes and the expected dog-related locales — veterinarian's offices, pet stores, kennels and dog parks — to campgrounds, laundromats, gas stations and even many apartment buildings. We have at least one location or franchise in every continental U.S. state, and often many more — so no matter where you live, there's likely to be a pet wash located conveniently nearby.
Once you've found a pet-washing station, you're ready to go to work soaping up your dog. Though we offer many options for customization and each pet-washing station is a little different, you'll find a few constants everywhere. No matter which dog wash you go to, you'll have an over-sized basin, temperature controls, shampoos, a vending machine with yummy dog treats and a vacuum and dryer for when you're done.
Benefits of Using a Coin-Operated Dog Bathing Stations for Pet Owners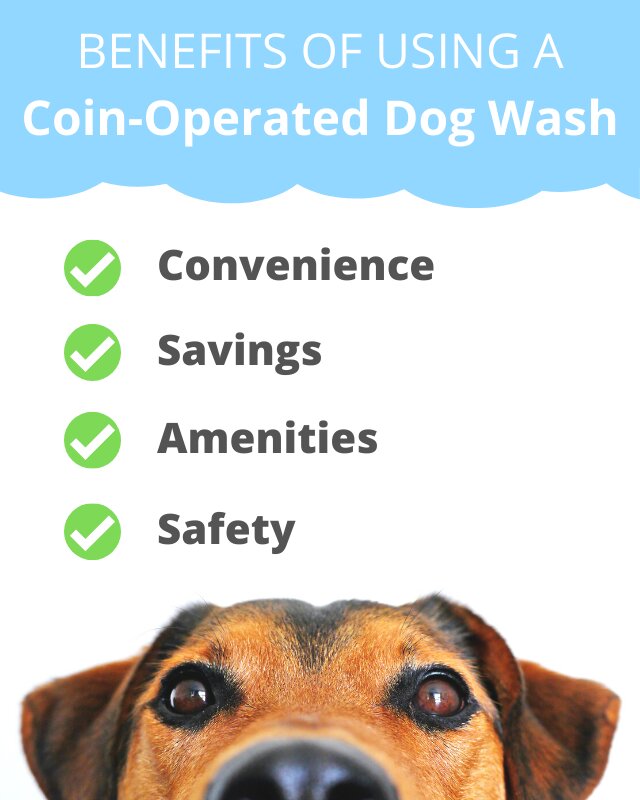 Is there really such a thing as a dog-bathing station? A coin-operated dog wash that gives you the tools you need to wash your pet easily and without the hassle of wet floors or total chaos? Absolutely! Coin-operated dog wash stations provide the ultimate in convenience and make what used to be complete pandemonium relaxed and enjoyable.
With availability 24 hours a day, seven days a week, any time is the right time to bring old Fido for a quick bubble bath with easy-to-use pet wash equipment. How about on the way home from the beach? A coin-op dog wash provides the perfect solution for muddy or sandy paws that are otherwise sure to do a number on the car, even with the mats in place. Besides, with a variety of different shampoos and treatments, you don't have to bring anything except your pooch to leave with a cleaner, happier, better-smelling dog. Our pet wash equipment brings convenience at your fingertips!
The advantages of choosing a coin-operated dog wash over going to a groomer or trying to bathe your dog at home are clear:
Convenience: Bathing a dog at home just isn't the easiest thing in the world. Not only do you have to get your dog in the tub, but you also have to make sure that he's not going to escape suddenly and turn your household upside down. We've all heard about pooches getting out of the bathroom or laundry area and treating all the furniture and rugs to wet footprints and sopping puddles. Plus, if you have a bigger dog breed, you might not even have a tub you can use. In that case, you have to hope that the weather's nice enough that you can go into the backyard and use the hose. It's not only messy and inconvenient, but it can make your dog less apt to enjoy grooming. Make your pup happier and protect your furniture by taking your dog to a coin-operated dog wash.
Savings: Dog owners like you love to pamper their pets, but money doesn't grow on the trees in the dog park. While it's fine to take your dog to the groomer's on occasion, the cost can start to add up quickly. This means you have to find a practical, economical alternative. A dog-washing station can provide you with the affordability you crave while still giving you access to top-notch equipment. In general, a 12-minute session will cost about $10, which is change you can probably find in the couch — along with all those dog toys that you thought Fifi lost! You'll be able to spend more on pet treats, organic food and that snazzy leash with the sparkles.
Amenities: Wouldn't it be great if you could turn your home into a pooch-pampering palace? Unfortunately, that's out of the picture for most of us. However, when you come to a coin-operated dog washing station, you can expect access to some of the best amenities available for dog washing. You can get top-notch shampoo on site, so forget the need to buy and bring your own. You can even use the natural air dryer to keep your dog comfortable and facilitate faster drying. Who says that a coin-operated pet wash station can't make you feel like you're in the lap of luxury?
Safety: Don't risk your pet escaping during an indoor or outdoor bath that happens at your home. Wet dogs who are trying to get away from the bath have a habit of wreaking havoc and may actually be alarmed by their wetness, leading to poor or rash decision-making. A commercial pet-washing station that's coin-operated has a heavy-duty door so you and your dog will remain safe and secure. For extra protection, always bring your pet on a leash and then secure the leash to a special hook during all bathing sessions. And consider bringing along a calming influence, such as your pet's favorite squeaky toy or blanket.
Let's be honest: everyone loves bringing the household dog or cat to the groomer. But who can afford to go as often as our pets really need it? For most people, the truth is we wait until we simply can't stand it anymore, and then we pay the price. Why should we have to spend a small fortune to keep our pets clean? A coin-operated pet wash offers the same great result for pennies on the dollar. Save your luxury expenses for extravagant dinners out and keep your money where it belongs — in your pocket.
Dog Smells Bad? Bring Him to a Coin-Operated Dog Wash Station
Is your poor pooch suffering from a case of the bad smells? It happens to all breeds, all ages and all doggy personalities. Even if you have a dog who primarily hangs out indoors, she's going to eventually emit an odor.
Dogs are unable to groom themselves, which means pet parents must come to their rescue. Take your dog to a coin-operated dog wash station and spend the time removing all the dirt, particulates and bacteria-laden debris that's built up over the past days or weeks. Pay special attention to your pooch's hindquarters and in between the toes on the paws. These are frequently places where grime starts to take its toll.
Be sure to carefully wash your dog's face using a soft cloth. Never submerge the dog's head in water or rinse it off. Not only can that get shampoo in the dog's eyes and mouth, but water can also settle in the ear canal. Many dogs end up at the vet's office for ear problems caused by aggressive bathing techniques.
If you're tired of being able to smell your four-legged pal from a mile away, it's time to head to the nearest coin-operated dog bathing station. Your pet — and your nose — will appreciate it!
Starting a Self-Serve Pet Wash Business Venture
So far, we've discussed what to do if you need a good place to wash your pet. But what if your goals are a little bigger — what if you'd like to get started with running a pet-washing station of your own?
With more and more people looking to save money, self-serve pet wash systems have become the latest craze. As the popularity of these do-it-yourself pet wash facilities continues to grow, people with little or no business experience are taking advantage of an easy and fun business opportunity. Because a self-serve pet wash is easy to set up, fun to operate and highly profitable, folks can create their own businesses and start seeing a substantial return on investment almost immediately.
For many people, starting a business may seem like an intimidating experience. With so many details from financing to insurance, just getting the doors open can get overwhelming fast.
Luckily, with pet wash stations, the setup process is so simple it can be completed in no time, leaving you ready to start earning profits almost immediately. In fact, because a self-serve pet wash building is moveable, it's considered a "vending machine." In most cases, vending machines do not require land permits or lengthy paperwork to get started. It's literally as easy as one, two, three. Plus, your pet wash station arrives fully assembled, making it super simple to hook up and start washing! Unsure of the profitability of running a self-serve pet wash station? You can finance a pet wash to test out the amazing profits before you commit and buy a self-serve dog bath.
Choosing the Perfect Location for Your Self-Serve Pet Wash
Where you decide to place your coin-op dog wash business is important for ensuring you get plenty of exposure as well as for attracting the right kind of customer. Choose a location that is highly populated and can be accessed easily and conveniently. The only real requirement besides a location near a high traffic flow is the appropriate utility hookups, including drain, water and electric hookups to run the dog wash equipment.

When choosing the location for your pet wash station, consider other businesses and how they may add value to your business. In other words, you may want to consider being located adjacent to a popular shopping center, gas station or even a car wash. The trick is to find a location where you will get the most exposure. Better yet, position yourself close to a dog park where your customers can stop by and wash their dogs after a day at the park. Once the word gets out about the services you provide, people will look for your commercial dog wash.
Starting a business with a self-service pet wash is easy. As an opportunity to provide services to those who need them and a convenient way to make extra income, pet wash stations are a great choice.
Trust All Paws Pet Wash to Keep Pets Clean and Happy
When you need to wash your dog, but you don't want to cram him into the tub or haul out the garden hose, turn to All Paws Pet Wash. Our convenient washing stations allow you to get your pet clean at a price your budget will be happy about.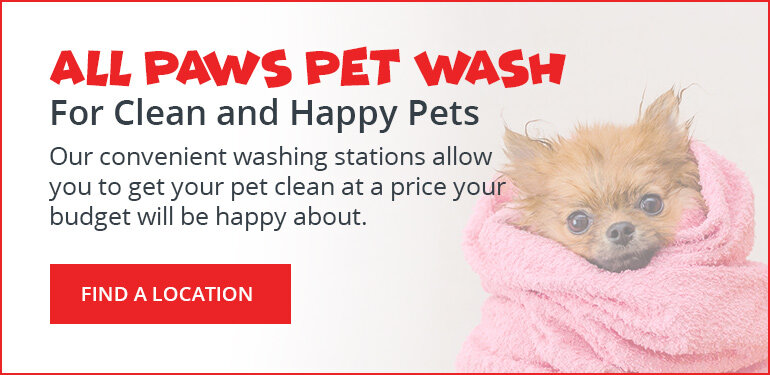 And if you're interested in getting started with self-serve washes for your business or public space, we can help with that too. Adding a dog washing station is convenient and profitable — and think how much fun it would be to have all those furry faces and wagging tails stopping by for a quick rinse!
Find a location online, request a quote or contact us today to learn more.
---