Our modular pet wash buildings offer all of the convenience of our APW models with the addition of a fully enclosed building. A sizable pet washing bay (or two) attached to an equipment room, these buildings are fully air-conditioned for the summer months and heated (water too) for those cold winter months. Complete with a dryer and vacuum for sucking up all of the excess water left on your pet after a wash, we ensure that pets will be comfortable while also being pampered. Modular buildings come in two sizes, a single (8' x 13'), and a double (8' x 21') and are completely ADA compliant.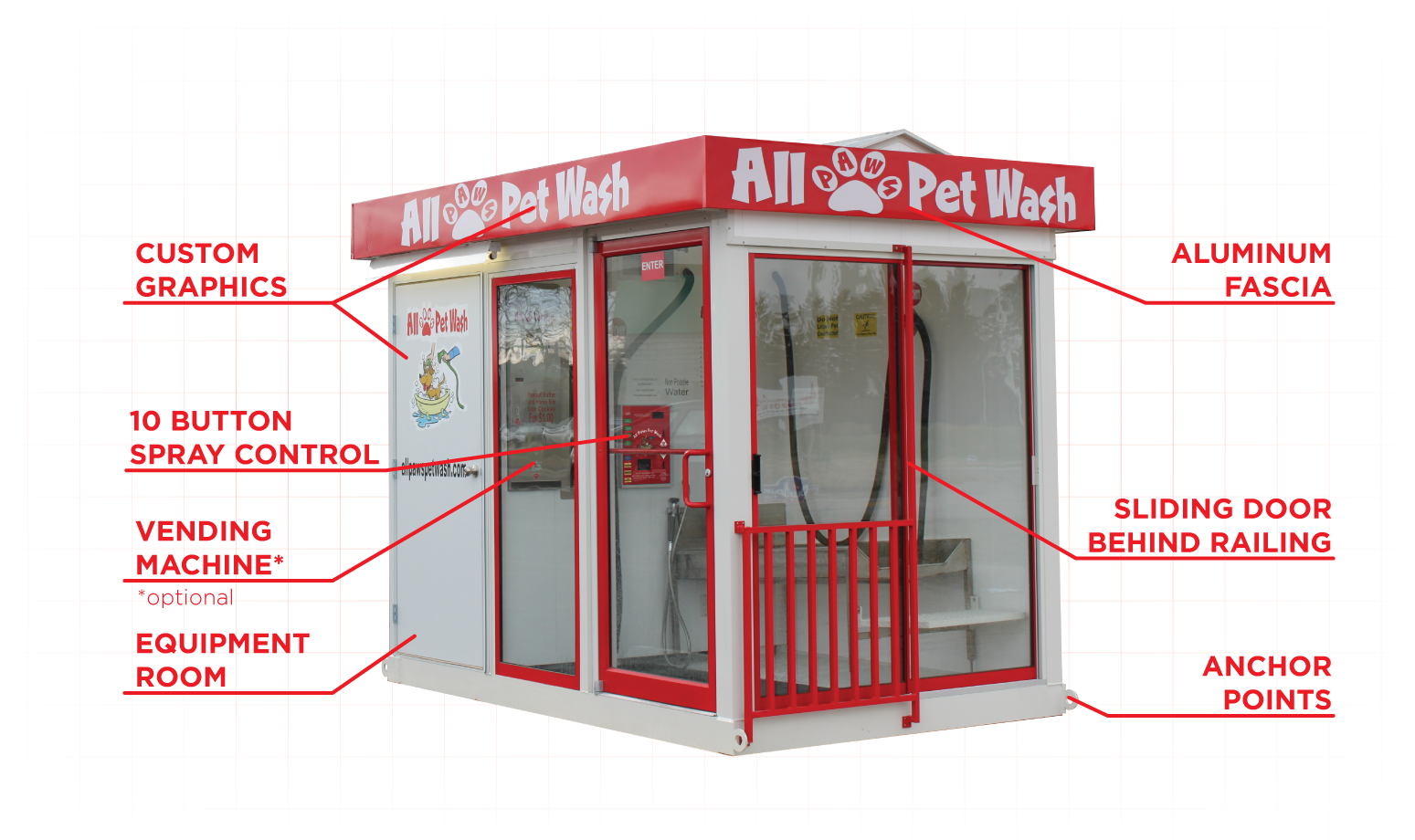 The ADA buildings offer all of the convenience and services as an APW but in a controlled environment. Make your unit available 24/7 to maximize your revenue!
Check out our line of ADA Modular Buildings

Experience the Owner/Operator Benefits of a Self-Serve Pet Wash
Dog wash stations are the perfect opportunity to make a few extra dollars without having to invest a lot of time or energy.
Great traffic generator
Year round application - Heated and Air Conditioned
Ability to turn on unit for free vend option
Ability to change price and time to fit any market
Fullot  enclosed equipment room
Sloping tub for easy cleaning and drainage of water/hair
Two inch drain for constant flow through hair strainers
Easy to read directions for customers
Credit card option

No ramps necessary - Easy for pet to enter low wash tub via a textured step
Six wash cycles (Oat Shampoo, Tearless Shampoo, Flea & Tick Shampoo, Conditioner, Pet Deodorizer, Tub Disinfectant)
High volume, high pressure rinse
Vacuum for sucking up excess water from pets
Groomer-grade blow dryer
Accepts quarters, tokens, dollar coins, one dollar to twenty dollar bills and optionally, credit cards
Non-slip mat in tub
Double filtration system to separate hair
Easy to read directions and ADA compliant push button controls for customers

Can easily connect to existing utilities
½ inch Hot & Cold Water Lines
P-Trap draining configuration
Water usage less than 2 Gallons/minute
220 Volt – 100 amp electric supply
Buildings measure 8' x 13' (Single) or 8' x 21' (Double)
Water Heater

Like all of our units (excluding the Manual Tub) our ADA Modular Buildings are ADA compliant. View our diagram with more detailed information.

That's all there is to it! You can have a self-serve pet wash up and running in no time at all, turning a profit and making use of otherwise unused space.
For more information on the ADA Modular Buildings, Contact us today!