Questions? Contact Us Call Now: 877-880-6056 Request a Quote Today!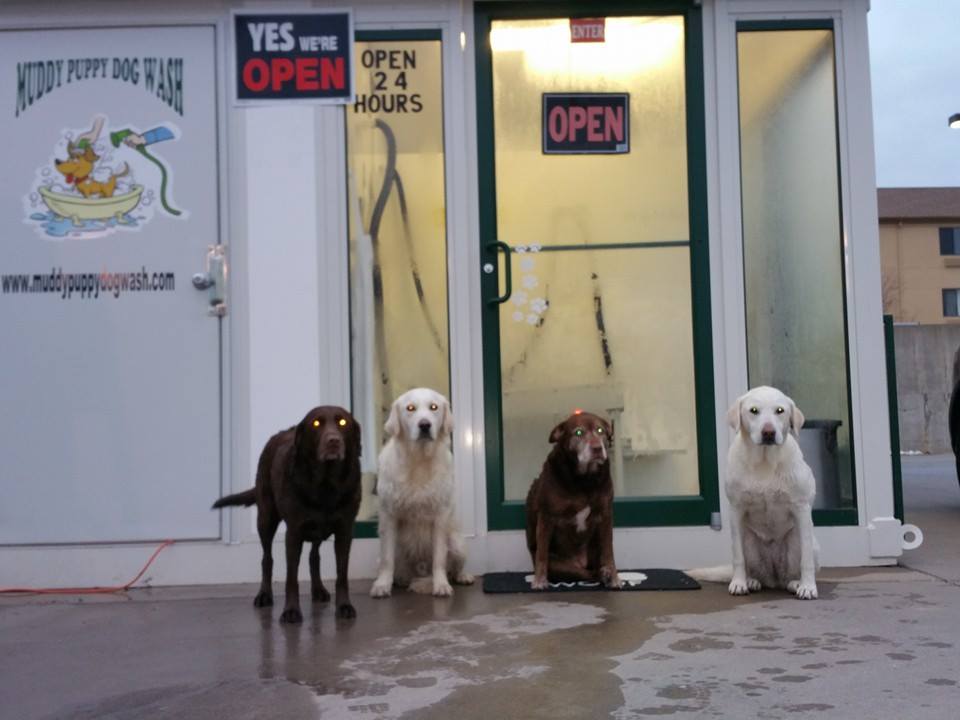 "The Greatest Invention Since The Dog! Discovered Muddy Puppy Dog Wash today, and I am delighted! Winter in Iowa is long and cold and dark, and being shut up in a tiny house with large dogs in desperate need of bathing can just about push a person over the edge. With my discovery of Muddy Puppy Dog Wash today, the future is smelling much brighter!
"It sits in a single bay of the Laser Wash Plus car wash at 570 First Avenue in Coralville and is open 24 hours. If you are familiar with washing your car in a self-service car wash bay, you already know what to expect when you wash your pooch. Insert $7 cash into the slot on the wall and you'll get 10 minutes time on the machine with a series of options to wet down the dog, soap up, rinse off, add conditioner, final rinse, vacuum off excess water, and finally use the amazing force-dryer to finish the job. Be a good citizen before you leave by pushing the disinfectant button and doing a quick rinse down of the tub to leave it sparkling and ready for the next dirty dog. If you have a very large or very dirty dog, you can add a few extra bucks to buy more washing time. This is especially useful because, being a first time washer, I was a little slow at getting the hang of things and because my Labrador Katie recommends a very thorough rinsing of the soap to prevent itchy skin after the bath.
"A plastic apron is provided to shield from the inevitable dog-shake-thunderstorm and the space is bright, clean and very cozy-warm, even at 11 degrees outside on the day we stopped by. The water temperature from the handheld sprayer is also nice and warm, and the sprayer has a very convenient latch-lock mechanism to keep a constant flow going.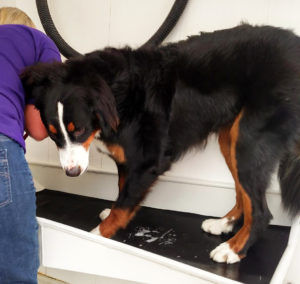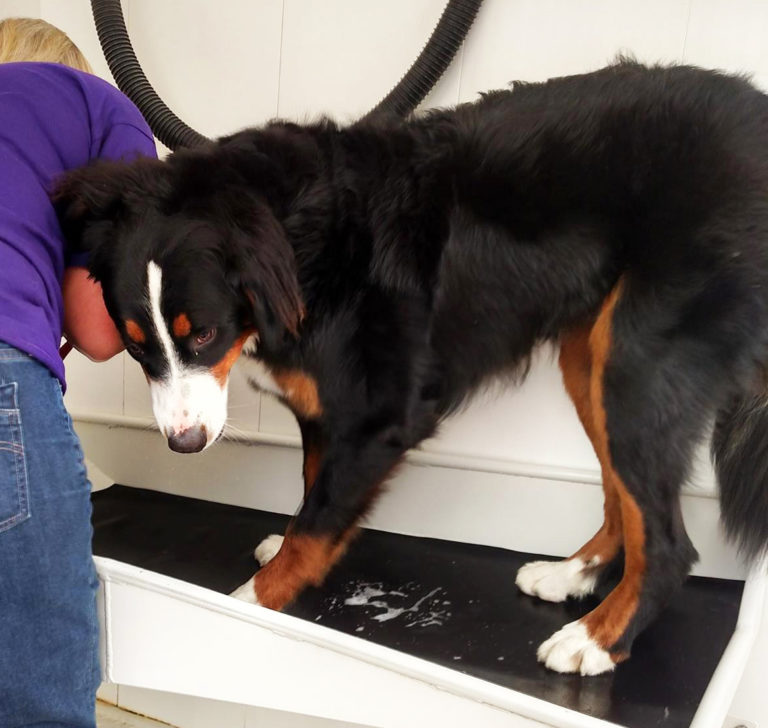 "There is a step leading up to the raised tub and the surfaces have slip-resistant rubberized mats for good footing for dogs and people, improving the confidence of both. Clip tethers are provided to secure your dog but my Labrador Katie didn't really need one as she loves her bath when it doesn't begin with the wrestling match usually required to get her into the tub at home.
"So for a few dollars and about 20 minutes start to finish, I got a squeaky clean fresh smelling dog, a bathroom in my little house that remained clean, dry, and (relatively) hairless – I do live with dogs, 'ya know – and a great dose of that dog-like enthusiasm we dog nuts experience when we discover something that makes our lives just a little closer to doggie heaven. Do check it out!" - Joann Whitmore @ Muddy Puppy Dog Wash
---
"Was there this afternoon. My dog Angel was very nervous as she doesn't like baths. She tried to eat your blow dryer…(unsuccessfully) but other than that I would say that she did a pretty good job. Was our first time using it, and it was easy to use. It was clean, (the cage bars across the door that you can open-excellent idea when I finally figured that out because I was dying I was so hot!) We didn't have any issues using it and of course I got Angel some treats. All in all, a positive experience and I didn't have to kill my back to wash my dog…so that's a plus. We will be back!" - Nichole Seni @ Alpha Dog Pet Wash
---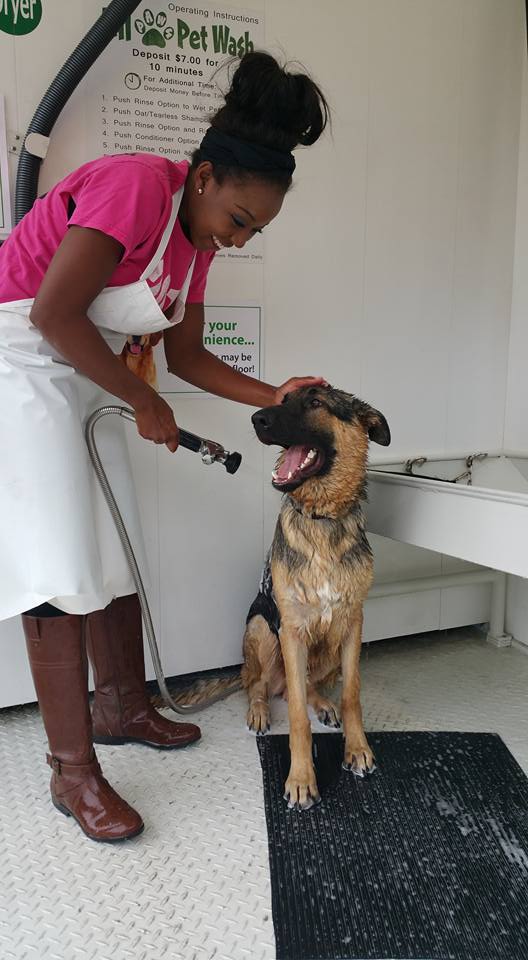 "Just used it for the first time. I have a very large dog that I can't wash at home. It was very convenient. Loved the idea of the treat dispenser. Definitely worth the $10!" - Dalynn Bennett @ Cyndi's Sudsy Pet Wash
---
"This is an awesome idea. My Doggies loved it. Overall, I loved it!!! Reasonable price. Nice, cool, clean environment. My girls LOVED it!!! So happy you are nearby!! It saves on cleanup from washing my babies in my shower. Lol" - Samantha McVey @ Kaks Pet Wash
---
"What an awesome fun way to give our sweet dog a bath! Garth Loved bath time today at All Paws Pet Wash" – Alyse Starks @ All Paws Pet Wash, North Salt Lake
---
"Just got back from using your service & I was so pleased! What an awesome idea! I have a somewhat behaviorally challenged furry friend & he did so well! Thank you!" - Jill Saner @ Cyndi's Sudsy Pet Wash
---
"I love the self serve pet wash. No mess at the house and everything you need is in the machine. Staff is always helpful and friendly when I see them. Will continue to take my dog for sure." – Chris Young @ Alpha Dog
---
"Love it! Took my dog Gordon and he felt secure on the rubber padded table. Push buttons and voila! Soap, conditioner, and clear rinse water. The bay is cozy warm and a plastic apron is provided for people protection. Brilliant! No back pain hunching over a dog and no mess in the house." -Karin McKeone @ Muddy Puppy
---
"We got to be the first ones to use it and have been back multiple times since!!! We love how easy it is! Our Great Dane usually hates bath time but does very well in there!!" – Kacy O. @ Clean Pup Pet Wash
---
"Washed the truck and the dog at Scottie Car/Dog wash. It wasn't hard or traumatic, he even let Britt use the dryer and vacuumn. The only thing since he is such a big dog, we washed him on the floor and my legs got wet. Next time, no long pants. Haha!! And he Loved the treats." -Dorena Blanchard @Scottie Express Carwash and Pet Wash
---
"So much better than washing my large dog at home!! She and I both love it very much and I leave happy every time!! 10/10 would recommend" – Rachael T. @ Clean Pup Pet Wash
---
"This place is amazing. I have a very large fur baby named Finn and he loved every minute of it. It made his bath time so easy breezy." – Mary H. @ Clean Pup Pet Wash
---
"Been in Hallsville my whole life and this is like one of the best things Hallsville could have ever started." – Mikal K. @ Clean Pup Pet Wash
---
"Absolutely loved it! Made it so much easier to bathe a 90 lb water hating dog!" – Micalah J. @ Clean Pup Pet Wash
---
"Best Thing Ever especially for big dogs!!! Thank you for opening up this pet wash station!!!" – Brittany G. @ Clean Pup Pet Wash
---
"This really is a great thing. Made washing my dog so much easier."  – Gretchen A. @ Clean Pup Pet Wash
---
Find the nearest pet wash to you:
Want to start your own pet wash business? Contact us today!
Questions? Contact Us Call Now: 877-880-6056 Request a Quote Today!