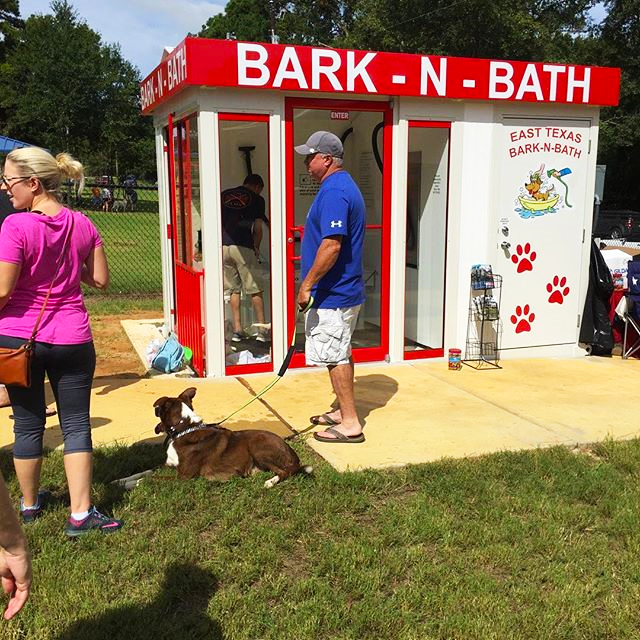 "When we had our grand opening for our pet wash and dog park we scheduled it to be 2 hours. It ended up lasting 8 hours because of the customers that continued to line up to use the pet wash! Everyone loved it and gave rave reviews. A lot of wonderful people came out to share in this event.
"I originally saw an All Paws Pet Wash in Pennsylvania and I thought it was such a cool idea and it looked great. I didn't own my own commercial property with hookups yet. All I knew was that I wanted a pet wash. I finally found the right location after 3 years and then started talking back and forth with Mike Ekstrom for advice and information. After seeing All Paws Pet Wash at a tradeshow in Arlington, Texas, we ended up buying the ADA 813 there. The process of it all was very easy. We worked with their graphic design team to customize the look for us and now we have our Bark-N-Bath! We've added a token machine, credit card machine, vending machine, and hot water heater to our pet wash.
"Opening my own dog park from scratch was difficult because we had to work with the city to get all of the hookups routed to the site. Now that it's set, I'm very happy with the pet wash and am definitely planning to purchase more pet washes and doing partnerships. I am primarily a real estate agent with this as my side business now. I have full confidence in All Paws Pet Wash that I truly believe apartment owners should have one.
"We promote our pet wash on the East Texas Bark-N-Bath Facebook page and on Instagram every day. So many people have already been talking about us and sharing us to their friends.
"We want to go in every direction with pet washes. If anyone has any questions, want to start a partnership with me, and want to hear about the pet wash directly from me, feel free to contact me."
Jeff Larry – East Texas Bark-N-Bath and Sunrise Paw Park
11415 County RD 166
Tyler, TX 75703
Phone: (903) 752-0123
24 hours with park lights