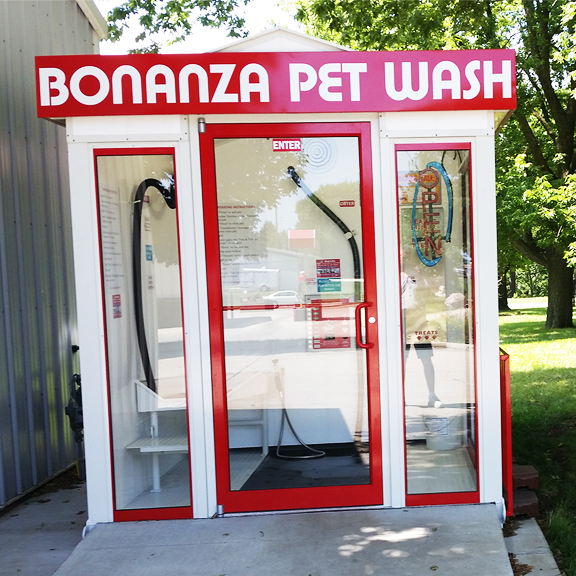 "I was first introduced to All Paws Pet Wash when a friend of mine purchased one and told me about his success. After looking his over, I liked what I saw and started thinking about getting one for my car wash.
"I ordered the APW Enclosed single unit with the cabinet on the right. Working with All Paws Pet Wash is very easy and smooth from the first phone call to installation. I got to work with the graphic designers so my pet wash was uniquely my own, matching my car wash business. They allowed me to have the same name on my pet wash as my preexisting business for easy recognition. This was especially important because I install my pet wash a short distance away from my car wash. I also got to choose the color of my pet wash from a list of 50 or so colors.
"It only took All Paws Pet Wash 6 weeks to build and ship my pet wash. They made my pet wash to order and custom designing for my business. There were additional features that I was able to my pet wash such as my credit card machine and my vending machine. They also had a a bill and coin acceptor option, token machine, postcards, business cards, and other marketing material.
"My pet wash opened for business on April 19th, 2016 and it received great business right away. I haven't needed to promote my pet wash because of the name connection with my car wash. The pet wash generally runs itself. Even before I had my unit installed and was actually on the truck being delivered to my location, a lady saw it as she was driving by and shared it with people on Facebook.
"I don't have to upkeep the unit too often – only a couple of times a week when it appears to need it, but it's very easy to maintain. I just use some bleach water to spray it down, wipe it, and it's good to go. It only takes me about 10 minutes to do."
Bonanza Car Wash and Pet Wash
749 North Second Street
Cherokee, IA 51012
---
Check out the nearest pet wash to you! www.findapetwash.com