Why did you open a car wash? While your standard answer might be, "To make money," there was probably more behind your decision to get into the car wash business. Many people are drawn to this industry because the majority of car wash owners are independent entrepreneurs rather than corporate conglomerates. Others are attracted to the industry because they want to provide a meaningful, convenient service for the neighbors they share their community with.
Whatever drove you to get into the business of washing vehicles, we're thrilled you chose your current career path, and we wish you all the success in the world. In fact, we can do more than extend well-wishes — we can help you increase your bottom line.
Reasons to Add a Self-Serve Pet Wash to Your Car Wash
As a business owner, you're probably always looking for beneficial car wash amenities that will help your establishment be more profitable. One amenity you may want to consider is a self-serve pet wash. When you think about it, the decision to add a pet wash to a car wash is a natural one.
For starters, you already have a generously sized, level lot. You have pipes to supply and drain water as well as electricity in place. Consumers know that your business exists to provide a much-appreciated cleaning service, and you likely want to serve your community even more than you already do.
While providing another service that people will appreciate might be all the motivation you need to install a self-serve pet wash at your location, there are a few other reasons installing one is a good idea, including that it can:
Create a passive income stream for you
Operate 24/7, enabling you to make money around-the-clock
Attract new customers who wouldn't visit your car wash otherwise
Increase the perceived value of your existing car wash
Save customers time by allowing them to get multiple tasks done in one location
Enable users to save money by washing their pets themselves rather than going to a groomer
Whether you look at it from the perspective of a business owner or a consumer, installing a self-serve pet wash at your car wash makes a lot of sense.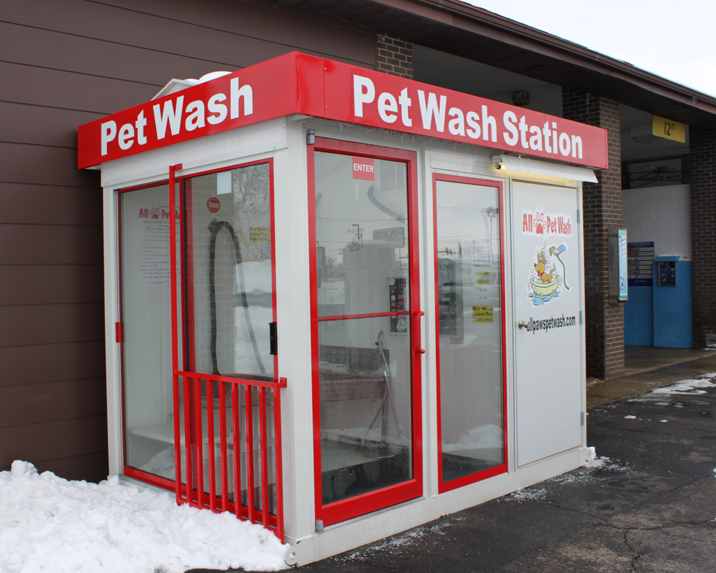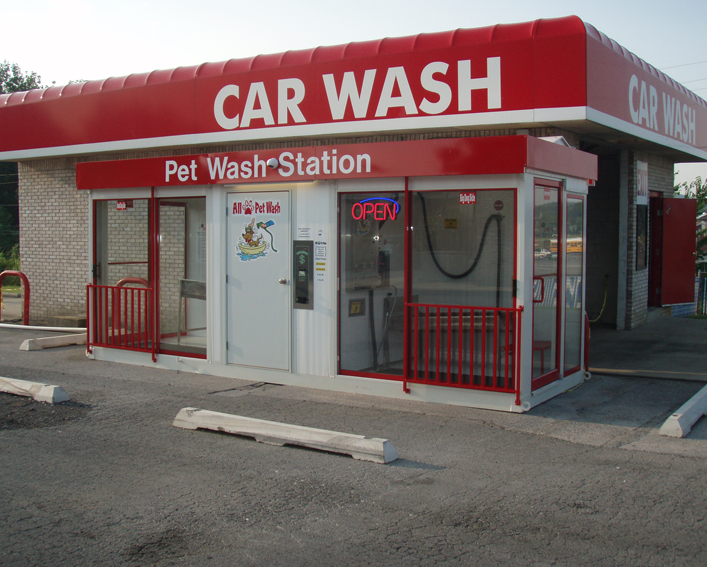 Add a Pet Wash From All Paws Pet Wash to Your Car Wash
What makes more sense than adding a pet wash to your car wash? Installing a self-serve pet wash by All Paws Pet Wash, of course! When you order a self-serve unit from us, we'll customize it to match the look of your existing car wash, which will prevent confusion and make your pet wash immediately recognizable as a welcome extension of your brand.
Our pet washes are high-quality and made to last in even the harshest environments. We'll deliver your pet wash fully assembled so that all you'll have to do is connect the water and electricity to start earning a passive income. Our self-serve pet washes are available in an array of styles and with different floor plans, making them the right choice for car washes of all sizes.
We mean it when we say, "All Paws Pet Wash… It's a Tail Waggin' Good Time!" That's what you and your customers have to look forward to when you add a self-serve pet wash to your car wash — good times. Request a quote to add a self-serve pet wash to your car wash today.
Self-serve pet wash stations make great additions to car wash locations!