Self-Serve Pet Wash: The Right Pet Washing Equipment Equals Success
How many of us have struggled to keep our pet in the bathtub while frantically reaching for the soap bottle that has disappeared? It's not a pretty picture. Chances are the dog escapes, the bottle spills, and the bedspread is wet. It's a common experience but one that can be avoided simply by using the right pet washing equipment.
True, not everyone has access to an oversized basin and appropriate hair dryers and adequate space for washing, drying and perfecting the dog wash. But there is another option, a coin operated self serve pet wash. Finding exactly what you need for materials, treats, space and peace of mind is easy when you visit your local pet wash station.
Offer your customers a convenient location to wash their pets with locally located dog wash equipment. Contact us today about ordering an All Paws Pet Wash Station with a full service dog bathing equipment set up.
Self Serve Dog Washing Equipment at Your Fingertips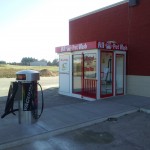 Our self-serve pet washing facilities make it easy and convenient to use the appropriate dog wash equipment necessary for a successful bath. Basins are oversized and can accommodate larger dogs easily without slipping. Some dog bathing stations even have double basins making it even more convenient to bring a second pet.
In addition, vending machines offer a variety of products for making the experience stress free for both you and the dog. With a wide selection of shampoos and treatments, you can easily find exactly what you need when you need it. There are even tasty snacks to reward good behavior and keep pets calm.
Using the right dog bath equipment helps our pets feel pampered, relaxed and at ease. And as anyone knows, a calm pet in the bath is a much better outcome than a nervous, fidgety one that won't stay still. All the pet wash equipment and tools you need to get a thorough, complete dog washing without the hassle of spills, slips or struggles is right there at your fingertips.
What Are the Benefits of Self-Serve Dog Grooming Equipment?
Wondering what a self-serve dog grooming station can do for you? A pet wash offers a variety of benefits for both you and your furry friend. With your own dog wash equipment, you can:
Save money: When you have your own pet wash, you won't have to take your pet to a professional groomer or a pet store grooming station anymore — which means washing your pet becomes much less expensive.
Save time: No more making appointments, trekking to the groomer and waiting your turn to get your pup clean. With our All Paws Pet Wash equipment, you can wash your dog right from the comfort of your home, yard or driveway and save yourself time.
Wash when it's convenient: If you go for a walk in rainy weather and your dog gets muddy, you don't have to worry about hosing them off now and taking them to the groomer later. Instead, head straight to your self-serve dog wash and make sure your pup is squeaky clean before you go inside. With your own pet wash, you won't have to go out of your way to clean your pet, and you won't have to wait — your self-serve dog grooming equipment is there whenever you need it.
Keep your home clean: No more dirty pawprints in your home, wet splatters on the walls or soggy comforters. With your own dog wash equipment, you're easily able to wash and dry your dog outside the house — so you can keep both your home and your beloved pup spotless.
What Does Self-Serve Dog Wash Equipment Offer?
So what's included in your convenient pet wash? Your self-serve dog wash equipment has everything you need for a happy, healthy, well-groomed pup. Here are the features of our All Paws Pet Wash equipment:
Temperature controls: Don't worry about your dog or yourself getting uncomfortable during the wash — the self-serve wash comes with heated water for a spa-like dog grooming experience. Plus, adjust the temperature controls inside to offer heat in the winter and air conditioning in warmer weather. Both you and your dog will benefit.
Shampoo varieties: Wondering what to wash your dog with? Each pet wash comes with five kinds of shampoos and treatments for your pet. Plus, you have a disinfectant spray to clean your tub between each wash.
Vacuum and dryer: Don't want to walk back into your house with a soggy dog? Our pet wash comes with a vacuum and dryer to end your pooch's bath with a fluffy finish.
Vending machine: Does your dog need a little extra motivation to get in the tub and be good while you wash them? Our pet wash stations include a vending machine with treats for your pet to enjoy before, during and after the wash.
Oversized basin: No matter your dog's size and how much they squirm, our dog bathing basin is big enough to be comfortable and accommodating for any pup, slip-free.
Dog Washing Equipment for Sale From All Paws Pet Wash
Take the stress out of your dog washing experience by investing in your own self-serve pet washing station. With access to the right dog bathing equipment, your experience is easier, less stressful and more comfortable for pooch. From double basins to shampoos to treats, our do it yourself dog bath experience will be one to remember for both you and your pet.