Whether you're a new dog owner or you've owned dogs most of your life, you may wonder whether you can give your dog a bath in the winter. If you find yourself asking that question, rest assured that the answer is yes. You can and often should bathe a dog in the winter, as long as you know how.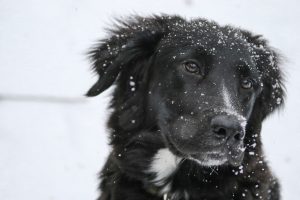 Bathing a big dog is pretty much the same as bathing a small or medium-sized dog in the winter. Once you master one size dog, you should be able to handle dogs of almost any size as long, as you have enough supplies and can lift the dog into and out of the tub safely. Remember — no matter how big or small a dog is, it's never a good idea to let them jump into or out of a tub on their own, because slippery surfaces and wet paws that can slide may lead to serious injuries.
Bathing Your Dog in the Winter
If you normally bathe your dog outside using your hose during the warmer months, you'll probably have to adjust your routine during the winter, as it might be too cold to bathe your dog outdoors. Like humans, dogs can suffer from hypothermia, so it's vital that you only wash your dog under the proper conditions when it's cold. This usually means bathing your dog indoors in a warm environment. If you're going to do it yourself, washing a dog in winter involves some work to keep them comfortable. Here are six tips:
Control air temperature: The first step is to make sure your home is warm before, during and after your dog's bath and until your pet is completely dry. If your home doesn't have central heat, use a space heater to keep the bathing area warm and allow your pet to dry off after.
Maintain water temperature: Only use warm water to bathe your pet. While your dog might enjoy splashing around in cold bath water when it's hot outside, it's unsafe to wash your dog with cold water during the winter, especially if they normally have to relieve themselves immediately after getting a bath. If your dog must go to the bathroom after getting a bath, make the trip outdoors as short and close to home as possible.
Prepare warm towels: Before you bathe your dog, warm up some thick towels in your dryer. After the bath, let your pet shake excess water from their coat. Then, use the towels to absorb remaining water from their fur and body.
Prepare for post-bath: Make preparations to keep your dog inside until they are completely dry. In general, it's wise to bathe your dog early in the day — especially if they have thick fur — so they'll be dry before their evening walk.
Adapt to the animal's lifestyle: If you have a dog that lives outside, you can still give them a good cleaning, even when it is too cold to bathe a dog outdoors. You can use a dry shampoo to avoid getting your pet wet.
Find a quality washing location: If you want to wash your dog on your own but don't want to run the risk of clogging your tub's drain with pet hair, you should find an All Paws Pet Wash station near you. Washing your dog at a self-serve pet station is safe, fun and hassle-free. You don't even need to bring your own shampoo when you bring your dog to an All Paws Pet Wash! Use our Find a Pet Wash Site locator now!
All Paws Pet Wash locations are available in numerous places to help you give your dog a great clean. If you decide to go ahead with washing your dog on your own, here are some additional tips to ensure you have a happy pup afterward:
The Best Time to Bathe Your Dog in Winter
When bathing your dog in the winter, it's best to give them a bath in the morning. By bathing your dog early, they can dry themselves when the sun is warmest at noon, and they will not have to go to bed with a wet coat.
Use a Moisturizing Shampoo to Help With the Dry Winter Air
As the weather gets colder, it's common for dogs to develop dandruff or dead skin cells visible on the surface of their skin or hair. If your dog has sensitive skin, using shampoo in the winter can cause dandruff to become worse.
To avoid removing natural oils from your dog's skin or causing skin irritation, limit the amount of shampoo you use in the winter. Using a water bath should be enough to clean your dog. You can also use a moisturizing shampoo and rinse. If your dog is already showing signs of dandruff, try an oatmeal bath to soothe their skin.
Make Sure You and Your Dog Are Comfortable
Whether you have a large dog or a teacup poodle, you may be familiar with the difficulties of bending over the tub to clean them during bath time. At All Paws Pet Wash, many of our tubs are at waist-level to prevent the need to bend over or strain your back while giving your furry friend a bath. Many of our tubs also allow your dog to walk in so you don't need to lift your dog or have them jump over the side.
Take Your Dog for a Pre-Wash Bathroom Break
Taking your dog outside during the winter when they are still wet from their bath can put them at risk of developing hypothermia. To keep your dog safe, make sure you take them outside for a bathroom break or walk before their bath.
Letting your dog go outside before a bath also reduces the risk of an accident in the house. It is not uncommon for dogs to run around after their bath to get dry or simply celebrate not being in the bathtub anymore. Your dog running on a full bladder can increase the likelihood of having an accident, making it essential to ensure they go to the bathroom as close to bath time as possible.
Finishing Up: Ears, Paws, Brushing and Everything in Between
After cleaning and drying your dog's coat, it's time to focus on post-bath care. Place a few drops of ear cleaner into your dog's ears and massage it into the ear canal. This cleaner will remove wax from your dog's ears and dry up any water that has entered their ears during their bath.
Next, turn your attention to your dog's paws. Since your dog is less active in the winter, their nails may be longer. Take the time to trim their nails to ensure they can continue walking comfortably.
Once you take care of your dog's nails, begin brushing their entire coat with the comb of your choice. Most dogs require a good brushing several times a week to prevent tangles for shiny and soft fur.
Start Your Own Self-Serve Pet-Wash Business in Your Community
If you have an entrepreneurial spirit and love animals, you may want to start your very own self-serve pet-wash business in your community. All Paws Pet Wash makes realizing your dream of becoming a business owner easy and affordable. If you want customizable options, a full line of products and excellent customer support, you couldn't ask for a better partner than All Paws Pet Wash.
Questions? Contact Us Call Now: 877-880-6056 Request a Quote Today!
To learn more about the self-serve pet-wash options we provide, contact All Paws Pet Wash today!
Articles Related to Washing Your Dog in the Winter:
How Frequently Do You Need to Wash Your Dog?
Tips for Keeping Your Pet Clean While Traveling
Tips to Properly Bathe a Large Dog