If you want to work with animals professionally but don't necessarily want to earn an advanced degree, you're in luck. Several career paths exist that allow you to work with companion animals without earning an associate's or bachelor's degree. Pet grooming is one of the careers you may want to pursue regardless of your education level.
The only pre-requisites necessary for becoming a groomer are a sincere affection for animals and some training. The training needed to become a pet groomer is available through apprenticeships, educational programs offered by state-licensed schools and select community and technical colleges. The length of your training program depends on the type of training you choose to pursue.
The Future of the Pet Grooming Industry
In addition to enabling you to work with cute, furry "clients," there are many other reasons to pursue a career as a pet groomer. Being able to flex your creative muscles, meeting new people and interacting with regulars every day are just a few of them. A bright future for the pet grooming industry is yet another reason why you might want to become a groomer.
According to the United States Bureau of Labor Statistics, employment in the animal care and service worker niche is expected to increase by 22 percent between 2016 and 2026, which is a rate that's much faster higher than average across industries.

One of the job opportunities that is available to current and future groomers as well as non-groomers is business ownership. If you question whether there's money to be made as the owner of a grooming shop, think again. In 2018, pet owners in the United States spent a combined total of $72.56 billion on their pets, including $6.11 billion on other services like grooming.
In 2019, the American Pet Products Association (APPA) predicts pet owners in the U.S. will spend $75.38 billion on their pets, with an estimated $6.31 billion of that sum being spent on other services such as pet grooming.
Questions? Contact Us Call Now: 877-880-6056 Request a Quote Today!
Ways to Increase Traffic to Your Pet Grooming Business
Whether you're dreaming about opening a grooming business or you already have your own shop, it's always beneficial to be thinking about how you can increase your revenue.
While the grooming industry offers great opportunities, there's no room for complacency. Pet owners and their furry family members will move away, and newcomers take their place. Some beloved pets will cross the Rainbow Bridge at the same time puppies and kittens are born. The local economy will experience booms and busts, and competitors may open up or close their doors for good.
As a business owner, you must adapt to all these things and many more to succeed. And you'll only be able to do that by asking yourself, "How can I increase my dog grooming business profits?" on a non-stop basis with a forward-thinking mindset.
Here are some tips for how you can improve your grooming business.
1. Have a Digital Marketing Plan for Your Dog Grooming Business
If you're wondering how to get dog grooming clients, the odds are good that you don't have a marketing plan. Entrepreneurs with a plan know about marketing for a dog grooming business because they have a step-by-step strategy in place that lists their planned marketing activities and explains how and when each activity will occur.
In today's connected society, it's essential that digital marketing be a big part of your overall promotional strategy. More and more, consumers are conducting local searches online to find businesses, products and goods that are located close to them. It's common knowledge that people are doing more than "just" looking for local businesses. The majority of mobile users visit or call a local business as the result of a local search.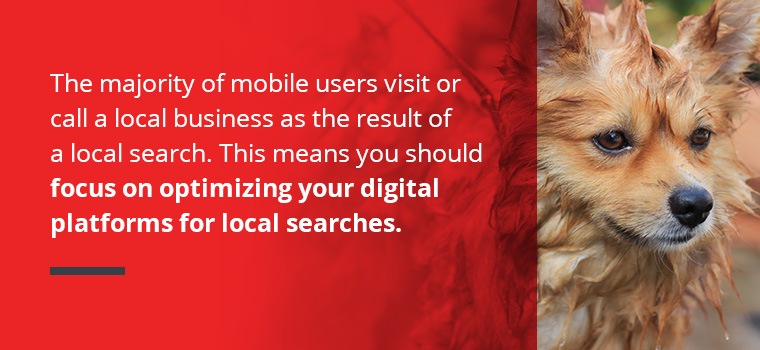 Increased foot traffic and revenue often go hand-in-hand. This means you should focus on optimizing your digital platforms for local searches. Go through the pages on your website and make sure the name of your city or your zip code is incorporated into your content. This can help your website reach the people who are close to your shop. Do the same for your blog posts and social media pages.
Also, don't settle for just optimizing your content to respond to searches performed on a desktop, laptop or mobile device. With the rising popularity of smart speakers like Amazon Alexa, you must also ensure your content will be included in their results, too — which would be the response to a question asked in naturally flowing language.
2. Drive Your Dog Grooming Business Income by Responding to Reviews
Optimizing your digital platforms isn't enough to market your grooming business online effectively. To get the most out of your digital presence, prioritize responding to online reviews regardless of whether they are good or bad.
While you may look forward to thanking people for their positive reviews, you may dread having to respond to negative comments. Although that's understandable, negative reviews give you valuable opportunities to show off your conflict resolution skills in front of an audience that's potentially limitless. They also give you the chance to show how much you value the people — and pets — who frequent your establishment, and they can actually add credibility to your business as long as you respond with care.
Nearly 95 percent of consumers read online reviews before they buy an item, and displaying reviews can increase conversions by up to 270%. Use these statistics to your advantage and respond to the reviews your business gets.
3. Establish a Referral Program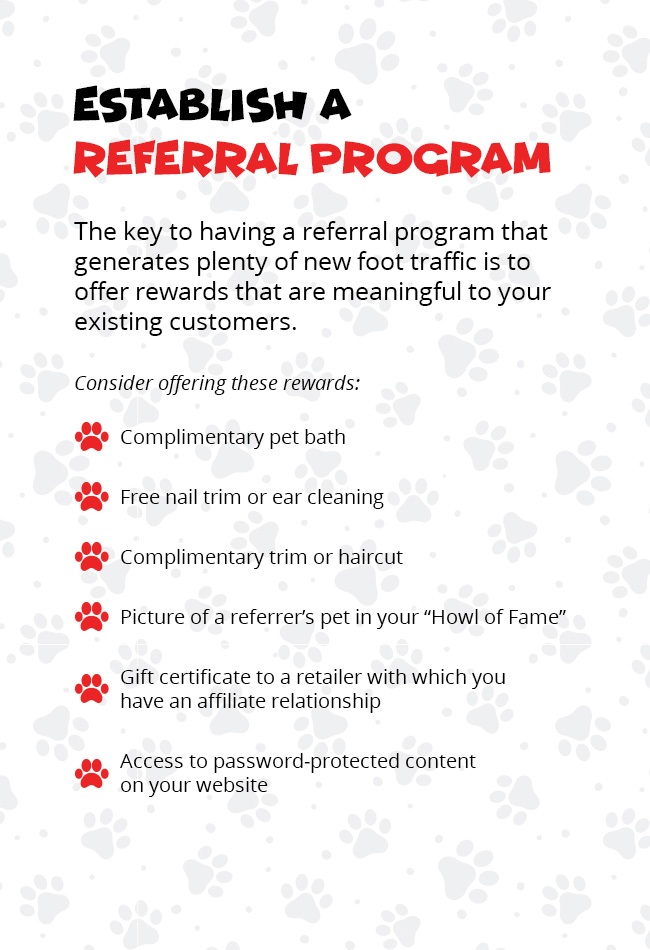 How do you advertise your dog grooming business in more traditional, non-digital ways? That's an important question to ask. While every marketing plan should have a digital component to it these days, your marketing plan should also include more conventional kinds of promotional activities. Even if you sell grooming supplies online as part of your overall operation, your business still isn't an e-commerce store exclusively, which makes more traditional advertising a necessity.
Though many consumers trust online reviews, people still act on the recommendations they get from others face-to-face. With this in mind, you may want to establish a referral program that rewards clients who send other pet owners your way.
The key to having a referral program that generates plenty of new foot traffic is to offer rewards that are meaningful to your existing customers. In addition to identifying desirable rewards, you also need to decide whether you will give a reward for each referral or after a client sends multiple new customers to your shop. If you're going to do the latter, you should ensure the rewards you give are more valuable than they would be for individual referrals.
Here are some examples of the things you may want to offer as rewards for referrals:
Complimentary pet bath
Free nail trim or ear cleaning
Complimentary trim or haircut
Picture of a referrer's pet in your "Howl of Fame"
Gift certificate to a retailer with which you have an affiliate relationship
Access to password-protected content on your website
4. Provide Giveaways
While a referral program can motivate your clients to send more business to your grooming salon, you can "use" your customers to advertise your shop in another way. You can make some inexpensive giveaways that have your salon's name on them available for your clients to take home.
Have you ever stayed in a hotel and noticed a pad of paper and pen by the telephone? Invariably, they had the name of the hotel on them, and they were free for you to take home. Hotels often provide these amenities because they want you to take them with you when you leave. Ideally, you will think of the great stay you enjoyed when you use them, you'll keep them on your desk for others to see or you'll give them to someone who will then become familiar with the hotel where you stayed.
You can use giveaways to increase loyalty to your shop and/or attract new business in a similar manner. Here are some inexpensive giveaways you may want to make available at the location where you check out your four-legged clients:
Pet Toys
Pens
Pads
Slip leads
Bandanas
Bows or clips
Refrigerator magnets
Collapsible water dishes
T-shirts
Hats or visors
Reusable tote bags
Rolls of poop bags
Giving away water bottles is a good idea, too. If you don't want to provide reusable water bottles, consider having custom labels applied to recyclable water bottles that you can give to thirsty clients instead.
5. Reward Loyalty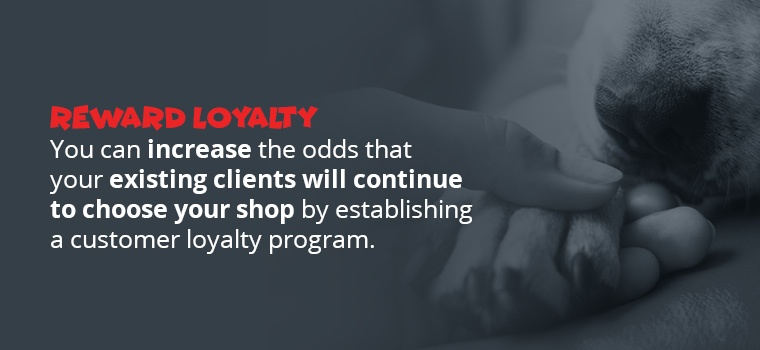 Depending on where your salon is, pet owners may have plenty of options to have their furry family members cleaned and clipped. You can increase the odds that your existing clients will continue to choose your shop by establishing a customer loyalty program. Having this type of program in place will also make your shop more attractive to prospects because they'll know that you'll value their business.
To create a customer loyalty program, you need to determine the number of appointments a pet owner will have to make to have their dog or cat groomed before the person unlocks a reward. Once you do that, you'll need to choose the rewards you'll provide after pet owners bring their pets into your salon the required number of times.
While some pet owners may appreciate free grooming appointments, others may value products they can use at home between appointments even more. For this reason, you might want to come up with several rewards and allow your repeat customers to choose the one they want after they bring their pet in for grooming often enough.
6. Participate in Community and Charitable Events
Participating in community and charitable events is a low-cost way to generate goodwill for your salon. Goodwill can be a factor that distinguishes your grooming shop from competing locations in the minds of area pet owners. A company's values are increasingly important to consumers, and they have the power to significantly influence a person's purchasing decisions.
Getting involved in community and charity events is a wonderful way to demonstrate what's important to you and your salon. Whether you're going to participate in an event at another location or host one at your shop, be sure you load up on promotional giveaways for the function's attendees to take home beforehand. You may want to consider running a contest during the event as well.
Have people fill out pre-made slips of paper with their name, phone number and email address and put the completed slips in a big fishbowl or box. Tell people when you'll draw a random winner and let them know they'll have to be present at your shop to collect a prize if their slip is chosen. This is an effective tactic to get people to visit your shop and add leads to your contact list.
7. Add a Self-Serve Pet Wash to Your Existing Grooming Business
While it may seem counterintuitive, adding a self-serve pet wash to your existing grooming salon can make your shop even more attractive to nearby pet owners. People who have dogs that don't require haircuts, such as Labrador retrievers, pugs and bulldogs, may decide to visit your location to bathe their dogs, for example. By having an alternative to bathing their dogs at home, these pet owners will no longer have to worry about their pets' hair clogging their drains or having a wet pet running throughout their homes.
That's, of course, great news for pet owners, but there are also some meaningful ways a self-serve pet wash can benefit your grooming salon. Here are some of the benefits of adding a self-serve pet wash to your grooming business:
Establishes a passive income stream
Increases the perceived value of your shop and the services you provide
Easy to maintain without requiring you to hire an attendant
Enables your business to operate 24/7, 365 days per year
Can be equipped with a vending machine for grooming items, establishing another revenue stream
Provides an additional branding opportunity
Offers pet owners the choice of five different shampoos
Allows you to set your own prices
Request a Quote for a Self-Serve Pet Wash for Your Grooming Salon Today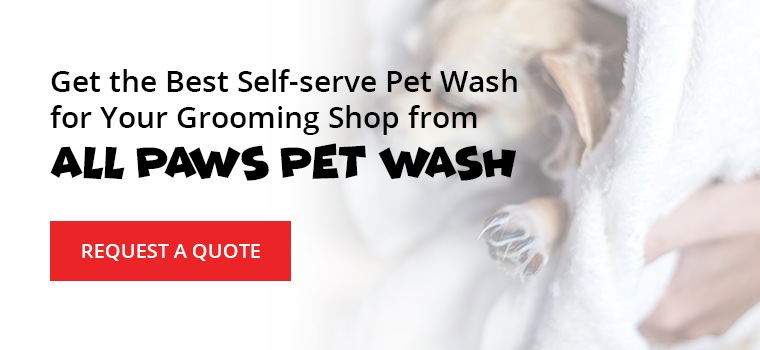 Of course, if you're going to try to increase your existing shop's revenue, foot traffic and visibility with a self-serve pet wash, you'll want the very best pet wash available. And that's what you'll get from All Paws Pet Wash — the best self-serve pet wash for your grooming shop.
Our great-looking pet washes are delivered fully assembled. All you'll have to do for you and your clients to enjoy the many benefits that having a self-service pet wash on site provides is hook up the necessary utilities.
Request a quote for a self-serve pet wash by All Paws Pet Wash today!
Questions? Contact Us Call Now: 877-880-6056 Request a Quote Today!
Other Articles We Recommend:
Ideas to Help Grow Your Pet Store Business
Marketing Tips for Your Pet Wash