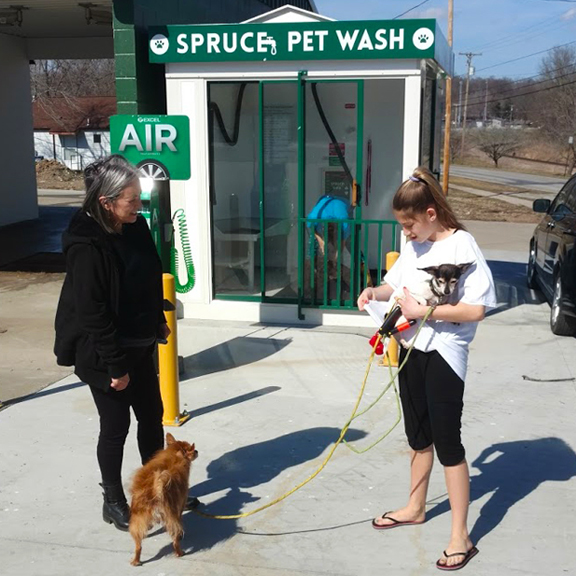 "We gained a loyal following almost immediately after opening the Spruce pet wash. There's nothing like it – self-contained and open seven days per week – for miles around. We're in a largely rural area where dogs rolling in mud (and worse), swimming in creeks and ponds, hiking tick-infested trails and confronting skunks are common occurrences. We hope to double our business in year two.
"Our clients' pets range from lumbering outdoor animals to tiny rescues. Clients love being able to wash multiple dogs at once. People can wash their large dogs on the floor, making it easier to wash the anxious pets. The water is warm and customers don't need to bring supplies or equipment. Most of the dogs aren't afraid of the vacuum and dryer and the pet wash is heated and air conditioned. We have extreme weather here so the climate control is a definite plus!
"NuWave Car Wash introduced us to All Paws Pet Wash. It appeared to be an affordable, practical and fun solution for people concerned about their pet's hygiene. We love dogs and animals in general. It's a novel idea. The pet wash is a service we provide along with self-serve and touchless automatic car washes, vacuums and water vending. The pet wash we chose was the ADA-compliant 'ADA 813' model and it opened for business in March, 2016. We worked with the graphic design team to custom make our pet wash. They are very diligent, professional, and competent.
"The unit came with a water heater. We purchased and installed a stainless steel shelf, a container to hold disposable nitrile gloves and hooks to hang leashes, and a trash can. We also installed a different nozzle on the vacuum that better distributes the sucking action. The process of getting the pet wash, from the first phone call to when we received the pet wash, was pleasant and helpful. The unit was built fairly quickly but we had to wait until our site rehabilitation was complete before taking delivery. We have a very visible location and use USGBC and US LEED Council certified LED Nighttime Friendly lighting.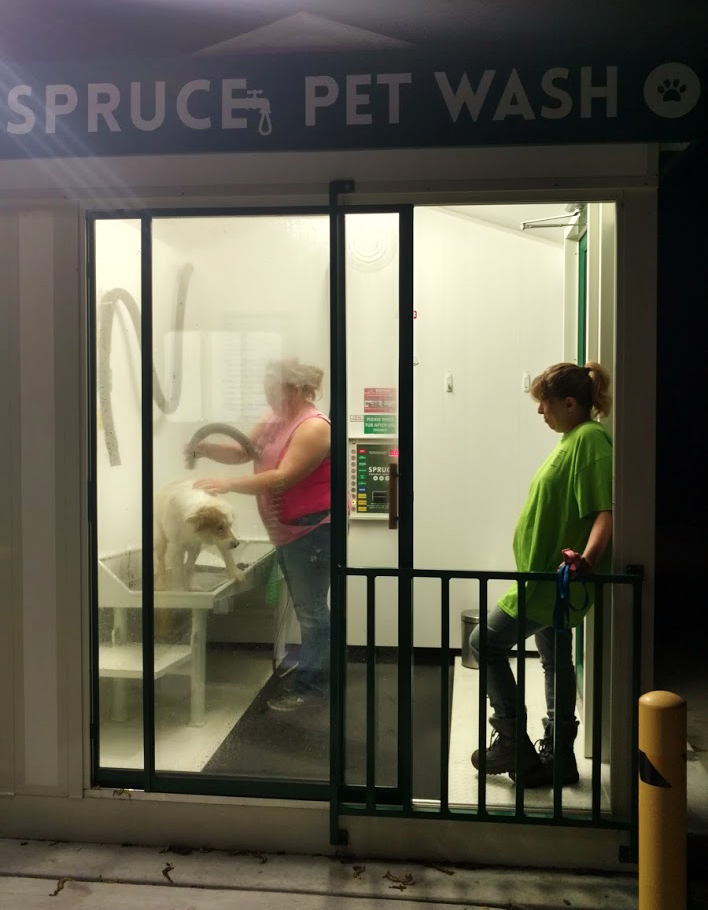 "We promote our pet wash via social media (primarily Facebook: facebook.com/sprucecobden1) and word of mouth. In addition, we provide free pet washes for our local Union County Illinois Animal Control shelter and directly support other area and regional no-kill animal shelters.
"All Paws Pet Wash used quality construction materials and a simple design, making maintenance easy. Regular (several times a day cleaning), maintenance and cleanliness is essential. We primarily use non-toxic cleaning agents, but importantly, we also use an anti-Parvo surface cleaner that we purchase from our veterinarian to ensure our tub and unit if free from viruses for our valued customers.
"The pet wash is easy to lock and unlock. It also has nice lighting. Refilling the containers and cleaning the wash space is a breeze. We also like the Spruce branding / signage on the unit, as we're at a major intersection in the community. When we wear our Spruce Tee shirts in other towns, people regularly ask if we are the owners of the pet wash in Cobden."
Spruce Pet Wash
109 Oak Street
Cobden, IL 62920
Open 24/7/365